Black Greek Women
Build Lasting Wealth
You're a doer and an action taker and you always have been. You're the one who's committed to uplifting and encouraging your family, friends, Sorors and community. BUT here's what I want you to know:
As women we are socially conditioned to pour into and take care of everything and everyone, but our financial legacy.
You see, at some point, you have to refill your cup if you want to continue pouring into others. And building lasting wealth and embracing sisterhood with the Stocks & Sorors Community is exactly how to do it.
Look, abundance and wealth open doors and creates opportunities that you can pass onto the ones you love and want to support and investing in the stock market is an excellent way to unlock abundance and wealth for years to come.
You joined a Divine Nine sorority because you wanted to make an impact and whether you're a member of Sigma Gamma Rho, Alpha Kappa Alpha, Delta Sigma Theta or Zeta Phi Beta, Sorority you have joined a sisterhood that has a legacy for influencing change throughout our communities.
And inside the Stocks & Sorors community, you'll gain a chance to make significant strides in setting yourself and the ones you love up for financial success.
Engage

With Stocks & Sorors
When you step inside the Stocks & Sorors Sisterhood, you'll be immediately greeted with:
Community

you can trust to help you navigate the roadmap for investing in and trading on the stock market.

Education

that gives access to in-person and online workshops led by Invest2Give, so you uncover the strategies and insight you need to  confidently make the most of your stock trading strategy

Safe, Simulated Trading Platform

recommendations where you can practice your investing and trading skills and simulate investments and trades before putting actual money into play
Meet Your
Sister

in the

Stock Market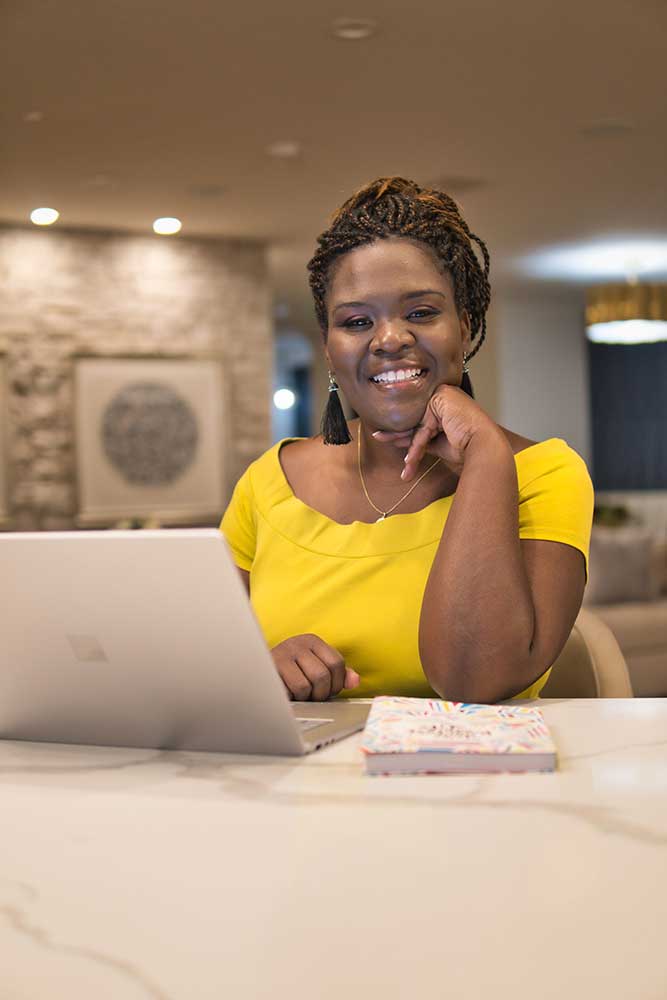 I'm Dr. Laquore Meadows, stock and options trading strategist & coach, best selling author, angel investor, a proud member of the Divine Nine and a graduate of a Historically Black College/University (HBCU). I launched Stocks & Sorors because I am on a laser focused mission to help the women of EVERY Divine Nine Sorority become actively engaged in the stock market.
And with an ambitious goal to reach 1,908 ladies who love pink and green, 1,913 women who adore that crimson and cream, 1,920 ladies who appreciate the finer things in life and 1,922 women whose last 100 years has been filled with grace and immense foresight, I have zero time to waste.
Wealth opens doors to limitless opportunities to influence change, serve and uplift others and that's why this mission is so vital. You see, I've used stock trading to transform my life and the lives of so many others and now I'm simplifying the stock trading lingo and demystifying the process, so you too can build a legacy of wealth – all by participating in the stock market.
Three Ways You Can
Start Building Wealth

Today
Whether you're just getting started or have already invested in stocks, plain and simple education is priceless in helping you achieve your goals.
You can count on me to clearly explain the essential elements of the stock market so you can enter this space with confidence.
Enroll in an in-person or virtual workshop to get life-changing guidance on how to engage in the stock market.
Grab your copy of my #1 Amazon Best Selling eBook, Income on Demand and get the complete playbook on how to begin trading stocks.
Educate your community of sisters and sorors on how to leverage the stock market by booking me to speak with your chapter and/or community organization.
Step Inside The
Stocks & Sorors Sisterhood
With resources available for every level of your stock trading journey, the Stocks  & Sorors Sisterhood is exactly where you want to be to start your journey on the stock market.
Stocks & Sorors:

Start Here Workshop Exclusive for Black Greek Letter Sororities
Kick off your stock trading journey with a 90-minute workshop. Perfect for anyone just starting out, this introductory workshop breaks down everything you need to know about the basics of the stock market. Learn what stocks and options are, the difference between investing in versus trading stocks and most significantly how to take your first step in creating a self directed stock portfolio.
Set your youth up for
Financial Success

with iNVEST YOUNG
Give the gift of a wealthy future with iNVEST YOUNG, a 2-hour beginner investing workshop facilitated by Invest2Give for youth, ages 12-17, who want to learn about the stock market and someday transition beyond simply serving as consumers of the products that they love – but to also become owners of the companies that create them.